The sluggard does not plow in the autumn, he will seek at harvest and have nothing. Proverbs

20:4
The gates open at 8:45 a.m. and close at 9.05 a.m. after which parents/carers or pupils are asked to sign in at reception. If your child arrives late they can miss out on some important learning; we focus on reading first thing - a critical skill that underpins all subjects. Coming in later can also make it harder for children to settle and can disrupt the learning of other students.
At the end of the day the gates open at 3.15 p.m. and children are dismissed at 3.20 p.m. Children who have not been collected by 3.30 p.m. will be asked to wait at reception where adults will need to sign them out.
We appreciate there may be times when there are unavoidable delays and we ask that you let the school know via the text service.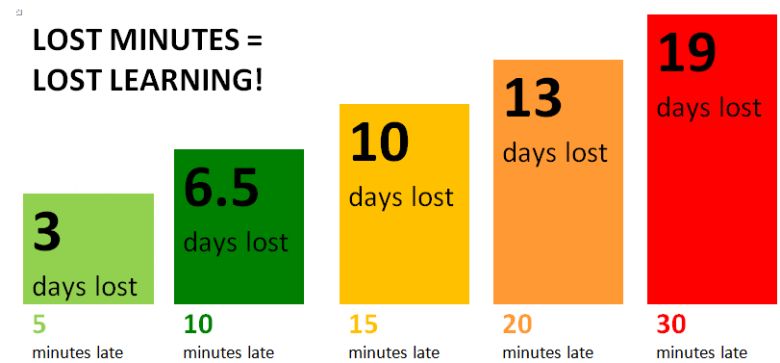 What you can do.
Have a regular routine for the start of the day.
Help your child prepare equipment the evening before.
Set a reasonable bed time.
Primary school age children need between 10-12 hours sleep a night. A survey by the Children's Sleep Charity of found nearly a quarter (24%) of the teachers questioned admitted they had had to resort to letting children who are very tired sleep in a corner of the classroom. For two thirds of teachers (65%) the problem is so serious they consider that the long-term progress of their pupils can be affected, while nearly half (48%) said lack of sleep made children unruly and badly behaved
This page is awaiting content